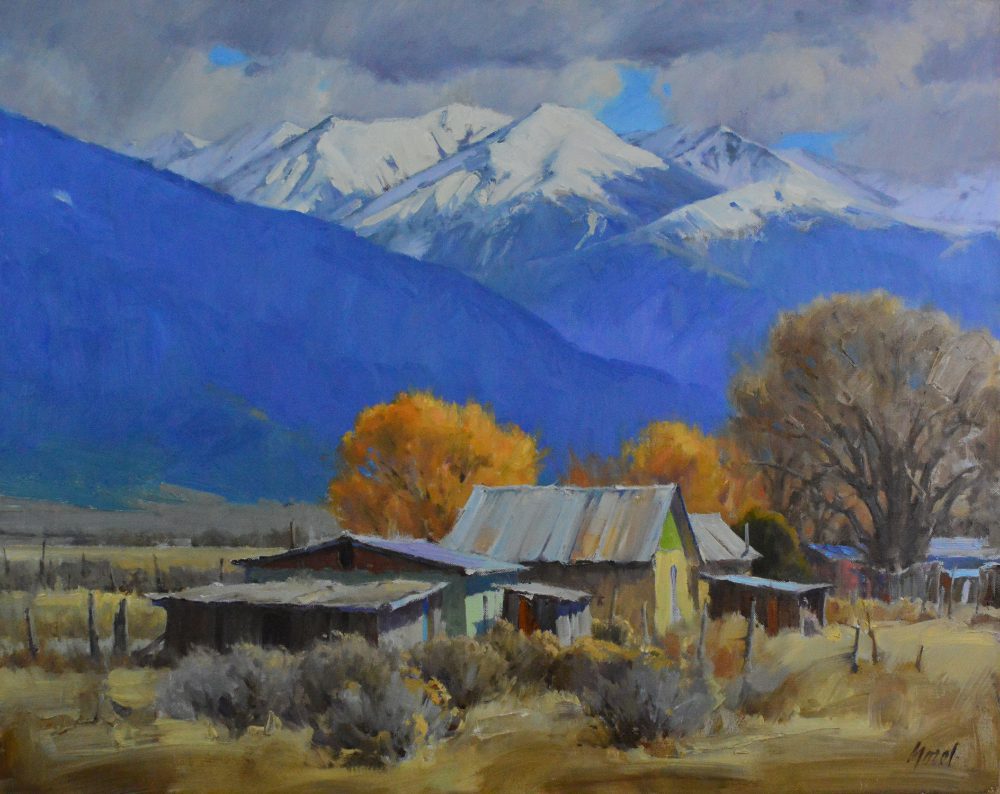 What: Chris Morel: One Man's Home
Where: Nedra Matteucci Gallery, 1075 Paseo De Peralta, Santa Fe NM 87501
505-982 4631 www.matteucci.com
Nedra Matteucci Galleries' first summer exhibition, One Man's Home, will feature oil and watercolor paintings by Chris Morel. One Man's Home opens with an artist's reception from 1 – 3 p.m. on Saturday, June 22, and the work will remain on display through mid-July. The exhibition will highlight Morel's signature Southwestern landscapes, as well as paintings from recent travels through the Western United States and France.
"For me, nature is more than something nice to look at," says Morel. "It is a necessity, like water, and there is no place that feeds my artistic soul like the mountains, streams and vistas of my Northern New Mexico home."
For over 20 years, he has lived off the
High Road to Taos in a valley bathed in light. The inspiration for many of his paintings comes from daily sunbursts along the icy peaks, the noonday radiance in the trees, rocks and streams, and the flush of alpenglow on the ridgeline out his studio window.
"Chris has a captivating and inviting personality which comes through in his landscape paintings," says Director Dustin Belyeu. "They have a radiance and vitality that comes from the heart."
Visit my gallery page for a preview: http://morelart.com/onemanshome-june22-2019/
What: Fall Painting Workshop
Where: Taos NM
The cost of the workshop is $400 for 3 days with a $140 deposit to hold your space. There is lodging available in the area or take a 30 minute drive from Taos each day.
Visit my workshop page for all the details.
Contact Chris to reserve your spot
Sept 21-22 and 29-29, 2019
What: 2019 High Road Studio Tour
Where: Morel Studio, 5330 Hwy 518, Vadito NM
Morel Studio open on the " 2019 High Road Studio Tour"
Please visit my studio Sept 21-22 and 28-29 for the annual "High Road Studio Tour". My studio is located at 5330 Hwy 518, Vadito NM. It is exactly 1 mile north of Sipapu Ski Area on Hwy 518. So head towards Sipapu  and you'll find me just before the resort.  I'll be open 9am-5pm each day, so come see me.
The High Road to Taos Scenic Byway is a lovely, winding road through the Sangre de Cristo Mountains between Santa Fe and Taos. It offers magnificent vistas of snow-capped peaks, alpine meadows, and charming traditional Spanish and Pueblo villages.
This lovely scenery has inspired many artists and artisans who live along the High Road, some of whom are featured in our blog:
575 737 1042 or info@morelart.com for more info.
Got questions? Contact Chris!