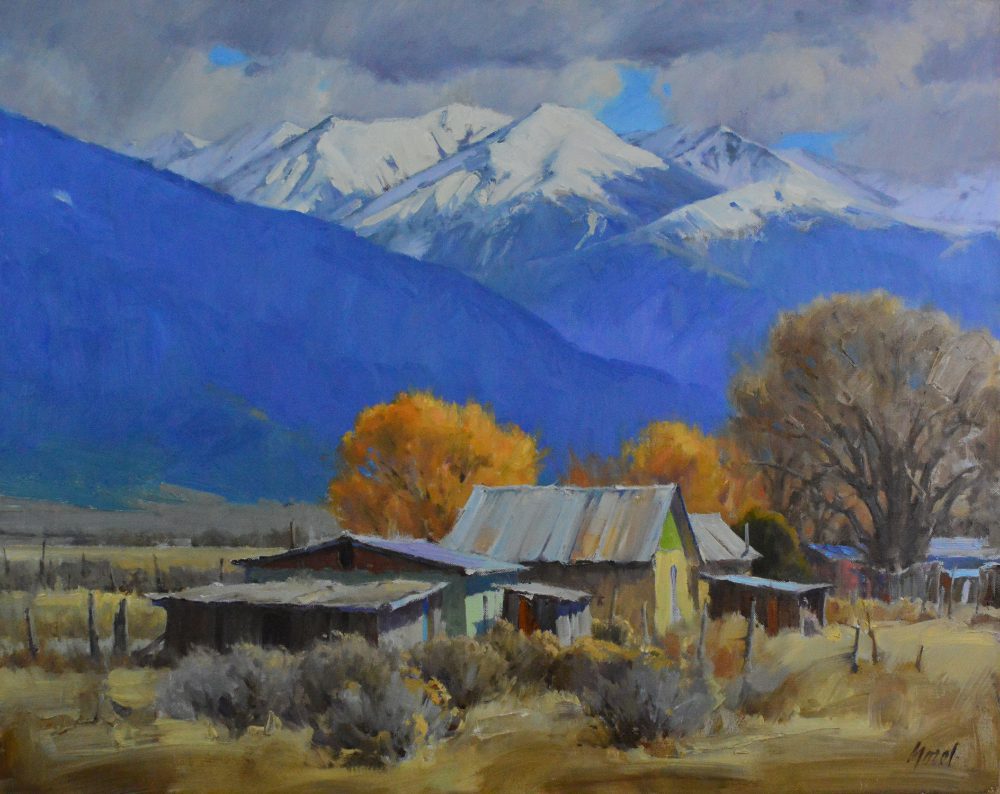 What: Fall Painting Workshop
Where: Taos NM
The cost of the workshop is $400 for 3 days with a $140 deposit to hold your space. There is lodging available in the area or take a 30 minute drive from Taos each day.
Visit my workshop page for all the details.
Contact Chris to reserve your spot
Sept 22-23 and 29-30, 2018
What: 2018 High Road Studio Tour
Where: Morel Studio, 5330 Hwy 518, Vadito NM
Morel Studio open on the " 2018 High Road Studio Tour"
Please visit my studio Sept 22-23 and 29-30 for the annual "High Road Studio Tour". My studio is located at 5330 Hwy 518, Vadito NM. It is exactly 1 mile north of Sipapu Ski Area on Hwy 518. So head towards Sipapu  and you'll find me just before the resort.  I'll be open 9am-5pm each day, so come see me.
The High Road to Taos Scenic Byway is a lovely, winding road through the Sangre de Cristo Mountains between Santa Fe and Taos. It offers magnificent vistas of snow-capped peaks, alpine meadows, and charming traditional Spanish and Pueblo villages.
This lovely scenery has inspired many artists and artisans who live along the High Road, some of whom are featured in our blog:
We welcome you to come, explore, and help sustain the rural economy of this charming, centuries-old region. Always the last two full weekends of September, the 2018 High Road Art Tour takes place September 22, 23 and 29,  30.
575 737 1042 or info@morelart.com for more info.
What: "Small Works, Great Wonders" at the National Cowboy Museum
Where: 1700 NE 63rd St, Oklahoma City, OK 73111
Morel will be participating in the National Cowboy Museum "SMALL WORKS GREAT WONDERS" annual show November 9, 2018
Small Works, Great Wonders® features a fusion of traditional and contemporary paintings and sculpture at affordable prices. Enjoy cocktails with more than 100 of the nation's finest artists, including many from the prestigious Prix de West. Door prizes, cocktails, hors d'oeuvres, and live music paired with beautiful works of art make for a truly special evening. Guests may also shop the Holiday Open House at The Museum Store. During this unique sales event, purchasers may leave with art in hand at the end of the night. Unsold art remains on display and available for purchase through November 25, 2018. To make reservations or for proxy bidding information; visit nationalcowboymuseum.org/smallworks.
5:00 p.m. Shop at The Museum Store's Holiday Open House
6:00 p.m. Art Preview and Cocktail Reception
7:00 p.m. Fixed-Price Draw for Art
Members $65, General $75
https://nationalcowboymuseum.org/attend-an-event/small-works-great-wonders/
What:One man show.
Where: Nedra Matteucci Gallery, 1075 Paseo De Peralta, Santa Fe NM 87501
505-982 4631 www.matteucci.com
Got questions? Contact Chris!